Ronan and Thistle here.   On Saturday, we got to go meet two new friends, Arson and Xeon.   We already met their "mom" Diane during our bird testing.  She's the really cool bird lady who shows us how to do all sorts of neat things.
Thistle: Here I am in the boat with Arson.  Bye Momma Sporty!  That's her watching us carefully from the shore– guess she thought I might fall out, but I CAN SWIM so it really is okay!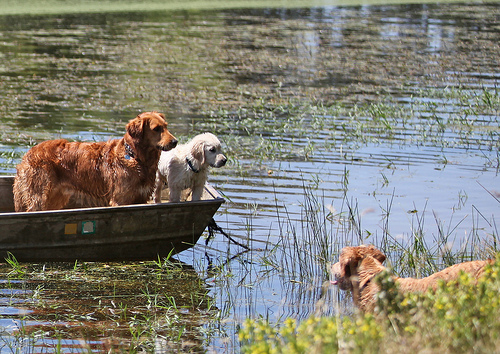 Thistle: See, here is a video of me swimming at Croft Lake a couple weeks ago!
Ronan: And there's our new pal Xeon in the boat, to the left of Arson and brother Thistle.   Xeon is cute and fun, and best of all she's a puppy too!    I got out of the boat before my human mom could take a picture of me, because there weren't any plants or cow poop to chow on in there!  (That's Momma Sport swimming by the boat, not me.)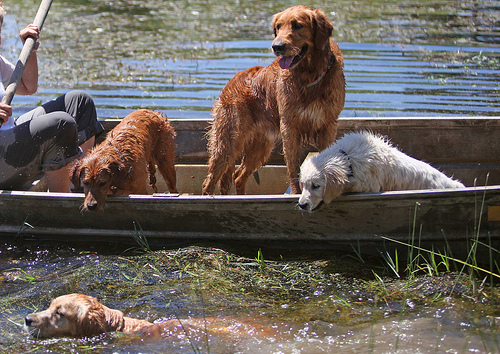 Ronan: We got to run like the wind, do some wading and swimming, meet weird fake ducks in the water, hear a shotgun, and the bird lady brought birds for us!  That was the best part of all.  Momma Sporty went bonkers over that, as did I.
Afterward, just for fun, our human folks decided it would be fun to do our own illustratation of the spectrum of golden colors for Golden Retrievers.  Momma Sporty is in the middle.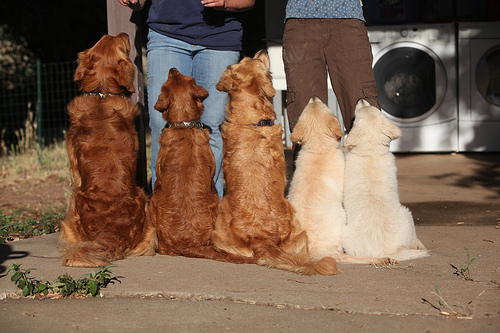 It was really hot out, and we were all tired, but we were good sports and let our humans take a group shot of us.  I guess I should mention we were bribed with smoked pheasant from the bird lady's refrigerator.  Ha ha ha.  Yummy.  No way were we looking into the bright sunlight though!