We took some of the dogs dock diving, and Miche/Bill/Avalon/Sammie were able to join us on an impromptu trip to Hollister.   Don put together some diving sequences for each dog, which I'm posting here.  Click on the photo to see the larger image.   Sammie's isn't done yet (Don's done with pictures for today!), but I'll add it when it's done.
Here's Ronan, with me handling.   His jumping style earned him a place in Don's photo-a-day project on Flickr.
Here's Sporty, with me handling, but you'd never know it because I threw the bumper from way back on the dock.  This isn't her best jump in terms of distance as she took off about 3 feet before the end of the dock, but it still shows off her stylish form.  🙂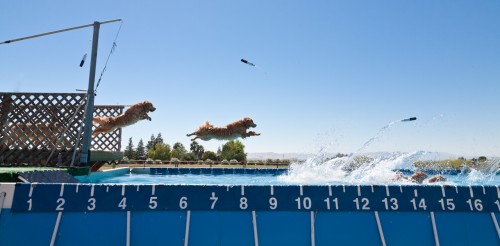 Here's Thistle, with Don handling.  He jumped!  We were very happy with how he did, especially since he didn't feel confident enough to start jumping off the dock at the lake until the last day.   He didn't want to stop jumping.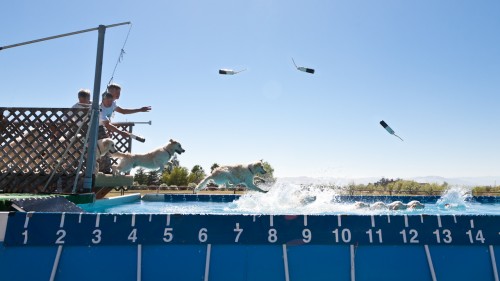 Here's Avalon, with Miche handling and Bill/Sammie watching from the sidelines.   Ava hasn't jumped off a dock before, to my recollection, but she ran right up the steps and jumped right in by herself the very first time!