About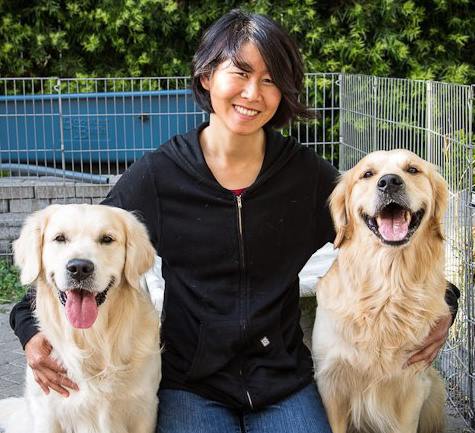 I've almost always had a love for Golden Retrievers though have only owned and worked with them since 1997. This journey has given me a much deeper understanding of Goldens as a versatile breed. They are dogs with the focus, drive, and memory to hunt and retrieve game. They are intelligent, with a great capacity to learn and work with people, leading them to excel in areas such as obedience, service/therapy work, and agility. They have terrific noses, so they do well in tracking (and eating leftover cookies out of unguarded jacket pockets!). Perhaps best of all, they have a happy, sweet, silly temperament that makes them wonderful companions.
I appreciate Goldens not just for their talent and abilities, but also for their beauty and structure. I've studied the Breed Standard, and try my best to continually train my eye to that ideal: "A symmetrical, powerful, active dog, sound and well put together, not clumsy nor long in the leg, displaying a kindly expression and possessing a personality that is eager, alert and self-confident. Primarily a hunting dog, he should be shown in hard working condition. Over-all appearance, balance, gait and purpose to be given more emphasis than any of his component parts." I breed rarely, and take it very seriously– taking into consideration temperament, structure, health, longevity, and working ability.
I participate in and have titled dogs in AKC events (conformation, hunt tests, agility, obedience, tracking) and USDAA agility. I am an active member of our local Golden Retriever club (NORCAL GRC), having served on the Board for four terms (most recently as VP of Performance), chaired multiple events, and as webmaster for over 15 years. I also am a member of the Golden Retriever Club of America and The Golden Retriever Club (in the UK).
All that said, although we love to work our dogs, they live in the house and are beloved family pets first and foremost.  Some of their favorite activities are hiking, swimming, running through the woods, and sleeping on the couch (gasp)!
Please enjoy our website and getting to know us and our dogs!
Christine
(California – San Francisco Bay Area)