Exciting news- Pat's Danica (Jingles litter) just completed her agility MX title and already has 5 QQs!   Go Pat and Dani!  Fingers crossed that Dani will finish her MXJ very shortly, as she'll be hopefully be having puppies this season.  There's more info about the planned litter on the Puppies page.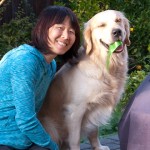 Ronan just finished his obedience Rally Novice title (!!!), and from here it's on to Beginner Novice.   He did some pretty good work for my young, excitable boy.   On the left is a photo of me and a laughing Ronan with his ribbon.
In other news, progress is being made toward other titles.   Sporty just earned another leg toward her MXJ and her first Open FAST leg.   Corina's Jackson earned his 2nd leg in both Open Jumpers (with a 2nd place) and Novice Standard.   And Meigs' River earned his 2nd leg toward his Novice Obedience title in Novice B with a 2nd place.
Great job, everyone!!   You make us proud.  🙂  Congratulations to all!