Ronan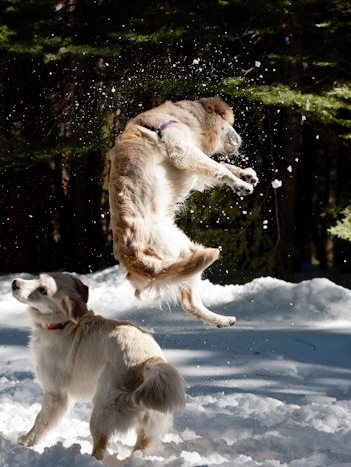 Tigana's Triple Exultation BN RN OAP AJP CCA
Exultation: (noun)
1. the state of being exultant (filled with or expressing great joy)
2. To leap upward, especially for joy
Exultation * 3 = Ronan
Date of Birth: Mar 27, 2010
Pedigree: View on k9data
Clearances: View on OFA
Ronan is an intelligent, enthusiastic, good-natured and outgoing dog with personality plus. He has quite the sense of humor, sometimes to our detriment!
Ronan is a powerful, athletic dog. He loves to run, loves water, and can swim for long distances. He has a natural desire to retrieve and carry; the larger the object the better, as far as he is concerned. He is visual and a great marker, but also has a good nose.
Ronan stands 23.5" at the withers, and weighs 80 lbs in working condition. He has a beautiful head/expression, good angulation, a strong topline, and great feet.  Ronan has a wash and wear coat of correct texture. He doesn't have any known food sensitivities or environmental allergies, and doesn't get hot spots or ear infections.
Ronan is a proven sire and is available at stud to approved bitches.
Videos
Photo Gallery
Ronan's Sire and Dam
Ronan is from the "Artisan Beer" litter. Read more about them on their page.
(Note: Triple Exultation is the name of an organic beer made by Eel River Brewing company, and quite good especially if you ever get to try it on tap at the brewery (in Fortuna, CA)).