Puppies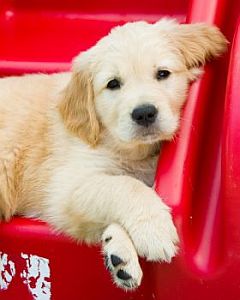 New 10/16: View information about an upcoming litter sired by our boy Ronan
—–
Thank you for your interest in a Tigana puppy.
We breed rarely, and a great deal of research and planning goes into any given breeding.  Our emphasis is on producing Golden Retrievers that meet the Breed Standard in form, function, and temperament.  We also do our best to breed for health and longevity.  With that foundation, they should be wonderful, active family companions as well as be able to participate in all the venues we are interested in (hunt tests, agility, conformation, obedience, therapy work, etc).
From the time a litter is whelped until the time they go home, we put a great deal of time and effort into raising and socializing the puppies.
If you are interested in a puppy from a future litter, please send email to be placed on a waiting list.  Puppies go to approved homes only, following completion of an application/interview process.
For some great educational information about Golden Retrievers and puppies, please visit the GRCA website for more information.
Litters Sired by Ronan
April 2016 – Ronan x Mulligan litter
Previous Litters
May 2008 – "Famous Jingles" litter
Mar 2010 – "Artisan Beer" litter
June 2012 – "The Fab Four" litter