Today we (Don, me, Sport, Thistle) joined Corina/Jackson for a 7.5 mile hike at Sunol Regional Park.   Our trail map is below, taking the following trails:  Camp Ohlone Rd > McCorkle > Canyon View > Indian Joe Creek > Cave Rocks (beautiful view) > Cerro Este > Camp Ohlone Rd .   At some point along Indian Joe Creek, we stopped to lay a short track for Thistle on a hillside, going over a fallen tree on part of the track.   He did a splendid job, finding the articles easily.

View Sunol hike – 1/29/12 in a larger map
We were remiss in taking photos, but here's one that Don took of Thistle at his dirtiest, after rolling in cow patties a few times. This was taken from the highest point of our hike, close to 1700 feet.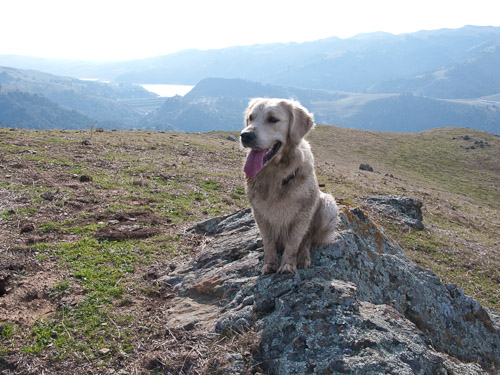 In other news, we just finished Day 9 of the Karen Overall Relaxation Protocol. Sport and Ronan are doing very well with it. I can see a difference in them… they rush to their mats when it is time to start, and are starting to relax more during the sit or down-stay instead of being on full alert the entire time. I'm sure they think I'm being quite silly as some of my tasks today involved my stretching, jumping, clapping, and touching my toes.     At this point I'm also going out of sight for up to 25-30 seconds.